Project INDAC, headed by Johannes Wolters, has taken upon itself for many years to support the German animation scene with special screenings, master classes and more – a service which would not exist without it.
Today there was a special screening of the new PIXAR short (thanks to Berlinale)'The Blue Umbrella' at Filmkunst 66. The German director Sascha Unseld presented the film, a making of, first production reels and the original pitch with which he managed to get the film produced by PIXAR.
The story is very simple but very cute (it only takes six minutes in all): Whenever it rains in a city, the city comes to life and with it the umbrellas we humans use to protect ourselves from the rain. Our hero, the blue umbrella, meets a lady, a red umbrella, at a traffic light and fals in love with her immediately. But as it so often happens with chance meetings – like at a traffic light! – their owners go different ways immediately. Our hero umbrella needs to act now if he does not want to lose the love of his life … I am not giving away more.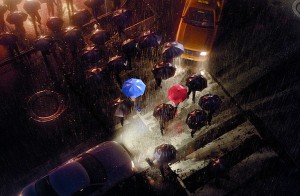 Director Sascha Unseld gladly described the development process of this film – from the original idea over preliminary sketches leading up to further production steps. Obviously, PIXAR seems to have taken a special interest in photo-realistic depictions as well as shading and lighting. Interesting, indeed, that even shortly before the whole project is finished a man like John Lasseter may come up and say: 'There is one thing we have to change. Otherwise it won't work.' Creativity may change its opinion anytime
A really fascinating hour.
If you have a chance do see it. It is very cute, very simple, but with amazing depth. In love all things seem complicated at times.